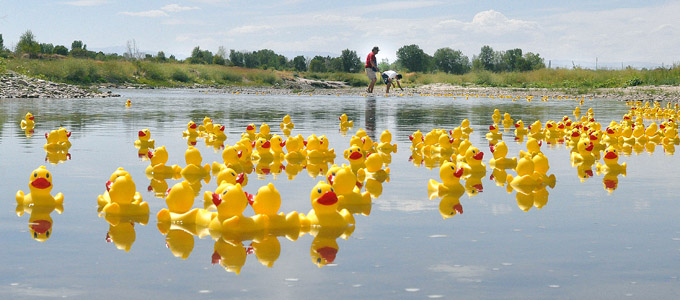 ANNUAL KNIGHTS OF COLUMBUS
DUCK RACE 2016
The Ducks will race at St. Mary's Catholic Church, 1855 St. Mary's Drive off Niagara St. in   Montrose CO 81401
You need not be present to win
Saturday       May 28, 2016   1:oo pm
Purchase a duck ticket now at the Donate Button  that  enters your duck in the race. As the race begins, all the ducks float down stream to the finish line. Local businesses have donated wonderful prizes for the Ducks that cross the finish line first.
The best part is that for each $10 ticket purchased, your favorite charity receives proceeds of $9.50.
Please consider HAVEN HOUSE as your beneficiary to this fun fundraiser.
TO PURCHASE A TICKET, USE THE DONATE BUTTON ON THE RIGHT, MAKE YOUR DONATION ONLINE OR BY MAIL

.

THEN SEND US AN EMAIL info@havenhousehomeless.org   To register your Duck, INCLUDE YOUR

NAME,

ADDRESS AND PHONE.

YOU DO NOT HAVE TO BE PRESENT AT THE RACE TO WIN. YOU WILL BE CONTACTED AFTER THE RACE.
THANK YOU FOR YOUR DONATION!
Prizes Donated by:
Ted's Steak House: $50 Gift Card–Target: $40 Gift Card–Amelia's Restaurant: $30 Gift Card–Genesis Christian Market:$25 Gift CardStone House Restaurant: $25 Gift Card–City Market: $25 Gift Card–Home Depot: Dewalt 40 pc Driver Set–Ace Hardware: Black & Decker Auto Wrench–Murdoch's: $20 Gift Card………………and many, many more!