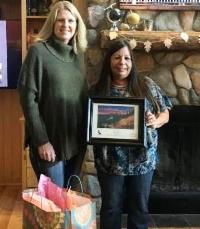 If your business is lucky enough to have an employee that everyone loves, that puts in 150% everyday, that has the admiration of local business people, that loves her work and always figures out ways to make things better and keeps a smile on her face no matter the severity of any problem……then you know how we feel.
CONGRATULATIONS ROSE FOR BEING HONORED WITH SUCH AN EXCELLENT AWARD!
AND THANK YOU HILLTOP PROGRAM FOR HONORING ROSE.